September 2, 2013
Who Is This Babylon? [Podcast #007]
Who Is This Babylon PodCasts Reaching More People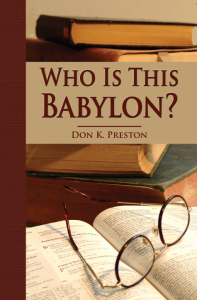 Don continues to share how listeners contact him to express their delight in the broadcasts and the current study of Who Is This Babylon. For the first time they are able to make sense of Bible, particularly of the prophetic texts which speak Christ's return in 70AD.
One of texts that undergirds the Covenant Eschatology paradigm is Matthew 23:36 following showing how the events of 70AD affected the Hadean realm. All the blood of the saints was avenged in that event. How can that be if the event has minimal significance and application of the fulfillment of these events to the locale of Jerusalem and the first century?
Apparently, those who raise this objection have not considered the fact that the cross was even less known than the destruction of Jerusalem.
It too occurred in Judea. Were people outside of Jerusalem concerned about Jesus' death on the cross? Does it impact anyone outside of the city of Jerusalem? Does its significance transcend time? Listen to this podcast to hear the connections between the significance of the cross and the Judean destruction by the Romans.
Fulfilled Radio continues to expand its reach online while sharing the Who Is This Babylon series. Both Don and me continue to receive calls from around the country. In addition the podcasts reach extend from pole to pole, from Alaska to Australia.
Thanks for listening. Please consider making a contribution of your choice to assist in spreading the word and helping with the labor. Thanks again.
Podcast: Play in new window | Download
Please follow and like us:
Next PagePrevious Page
Similar Posts