October 3, 2012
Fulfilled Radio Update 2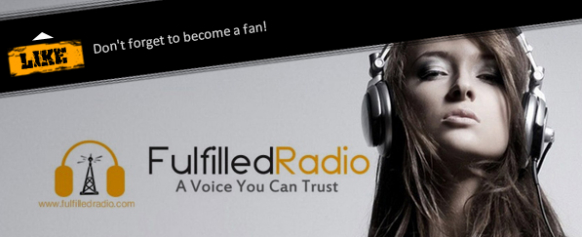 Hello to all the encouraging supporters and listeners of Fulfilled Radio. On behalf of Don and myself, I would like to apologize for our technical difficulties we've experienced on this weeks broadcast. I am working to resolve the problem.
As we told you before, we were looking for a permanent solution to using our existing format, and after yesterday, we both decided it was time to make that move as quickly as possible. The station is already secured and I'm uploading past broadcasts as I write.
We'll also have much more control over the broadcast quality, recordings and live productions. As soon as I get enough material uploaded and do some preliminary testing, I will put the new broadcast player on the website.
It's a tedious process but for now. I am in conversation with my son who lives in Chicago, IL who has experience as a TV show host and interviewer about being our station engineer and part-time DJ as we mature in this process. Eventually, he'll be managing the files and relieving me of that duty.
Thanks so much for your patience during this early phase of our launch but we're committed to bringing you quality information over the airwaves. Shortly, we will be world wide with access to more stations. Stay tuned!
Please follow and like us:
Next PagePrevious Page
Similar Posts